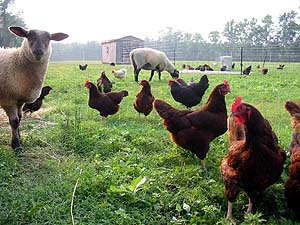 What's Full Quiver Farm about?
We're first about joyfully raising and training our 9 children to be faithful, mature and responsible young people in this up and coming generation. Second, we're about producing environmentally responsible "clean" and delicious food for your table.
Our commitment:
As stewards of our environment and farm, we are committed to the following old-world practices:
We fertilize the old fashion way, with compost and manure. We believe that animals raised outdoors on frequently rotated pasture creates a healthy environment. And, of course we use Non-GMO feed. Our animals are treated lovingly and humanely. We try as much as possible to provide a habitat that closely resembles the animals natural environment
Full Quiver Farm Products
Authentic Country Brown Eggs - All Natural
At Full Quiver Farm, our birds are in the sun daily. They run about the pasture, eat grass, clover and grasshoppers. They're healthy and strong and lay eggs that display that same vitality in appearance, taste, and healthiness. Studies have shown an increase Omega 3 fatty acids in pastured eggs. Our hens are moved frequently to new pasture to keep pathogens in check and to provide necessary rest periods for the grass. This natural movement of our "flock" is seen in nature and is mimicked on our farm to produce the worlds best egg. We provide nest boxes for our hens outfitted with fresh hay regularly. When a hen is ready to lay her egg, she searches for a quiet secluded place away from the rest. Our cozy nest boxes make our hens feel comfortable and stress-free as they lay.
Fresh Local Pastured Poultry - All Natural
Our meat chicken are also raised outdoors on pasture. They are protected from predators in our open-air hoop shelters which are moved daily to fresh pasture. Our chickens receive Non-GMO feed. This more natural low-stress environment produces a healthy low-fat bird with a tender taste you just can't beat. Availible seasonally, April through January.
Authentic Woodland Raised Pork
A pig that has been raised outdoors, pampered by our family, allowed to root and dig, and express its piggyness, is a happy low stress pig. And one that serves up as a gourmet treat! Pork is available year round.
Grass fed beef - All Natural
Our natural grass fed beef is lean and flavorful. Most traditional beef in this country spends the last two to three months of its life in a concentrated feed lot being stuffed full of grain, protein, hormones, and antibiotic supplements. Our beeves spend their lives in green pasture eating a "salad bar" of pasture and grass, a cow's natural diet. Hay in the winter.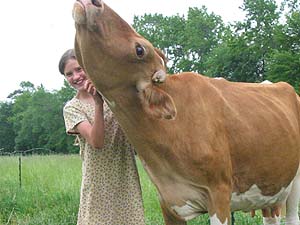 Thanksgiving Turkey
Our Pasture Raised Turkey sells out every year. We usually have a waiting list. Order early!
Raw Milk Cow Shares
Got milk? Fresh milk from your own cow boarded here on our farm. Contract required. Email us for details or to get on our waiting list..